A Research Road Trip
Driving from Taichung to Kaohsiung, in the name of conservation
When I wrote in my last update about the summer intern who would write about her experience later, I initially was only expecting her to write something at the end of her internship. In early July, however, we went to visit a textile conservator friend I met through Instagram — here are Esther's thoughts below:
Emi and I took a day trip to Kaohsiung to visit a conservation lab within Cheng-Shiu University. It seems like most people don't know the university even has a conservation center, and certainly not one specializing in textiles. Perhaps this is partly due to conservation being a fairly unexplored concept in Asia as compared to the Western world. 

We met with Rosie H. Cook, a textile conservator who has been working at the conservation center for two years. Textiles involve anything ranging from clothes to tapestries to canvases; anything with "textiles" in it. My first thought after stepping into Rosie's textile lab was how small it was. It makes sense, the textile department was only established after Rosie arrived, so it's still relatively new. From the two hours we spent at the lab, I was given a small glimpse of the behind-the-scenes work that conservators devote themselves to. Artifacts that we might simply glance at within a museum require an extensive amount of work in order to correctly conserve, display, and care for these historical items. At least, the hope is that there are professional conservators paying attention to all these details to prevent damage on valuable historical objects.

To help demonstrate the complexity of caring for these items, imagine an old historical piece of clothing. Rosie showed us a silk vest embellished with intricately woven patterns and delicate tassels. However, the vest had been thrown into a bag, stuck in a box, and pushed away under a desk. As a result of time and incorrect storing methods, the vest now has rips along the body, with the bottom edge completely torn off. Conserving this vest isn't the same as restoring it. While someone who is restoring it might fix it to the point where it could be worn again, a conservator's job is to reinforce the fabric and seams so it doesn't continue to fall apart. The point is not to repair the item so it's "like new," but to reinforce it so that damage does not continue to happen, while keeping the authenticity of the materials. However, everything a conservator does to an item should be reversible in case they make a mistake or decide to undo their work. According to Rosie, ideally the vest can be conserved to last a couple hundred more years. 

Displaying clothes is a whole other problem. Simply putting clothes on a mannequin causes too much stress on the shoulders of the item. On the other hand, displaying them flat (whether hanging or laying) can also cause stress and further damage. Additionally, displaying clothing on a flat surface rather than a mannequin takes away the human element of the clothing. As Rosie said, "the display is key, but can be very problematic to find the right solution."

Rosie also gave us a tour of the other labs in the building, which focused on the conservation of other materials, such as wood, metal, and paintings. I learned that textiles have a very subjective value because people see textiles as a daily use material, unlike paintings or sculptures. Therefore, the majority of their value derives from what it means to the owners, and most items brought in end up having a very limited budget. Rosie's lab is considered a commercial lab, where generally-speaking anyone can bring in something to be restored (so long as they have the money to pay for the process). In contrast, a museum's conservation lab may rarely accept any client request that doesn't have obvious or deep historical significance.

The field of conservation, and even just textile conservation, is so much more complicated than I expected. You have to constantly think about a multitude of elements, such as preserving a textile's authenticity, reinforcing it enough to hopefully last several more decades and centuries, and the best way to display it. Additionally, conservators are always problem-solving to find the best way to treat damages, like removing stains without harming the fabric with harsh substances. Ultimately, I learned that there are so many aspects to ethical conservation, and it's still a growing area of research.

If we went to the lab again, I'd want to learn more about the conservation effort in Taiwan. Why is it that Asia is so much further behind in correct conservation practices than Western countries, and in what ways has this changed in the past 10 years? What are the greatest needs of the conservation effort in Taiwan, and how are conservators here working to address them? This trip was a personal discovery for me about an area of work I hadn't thought much about before. As an intern for Emi, I had only been focusing on the preservation of buildings, and unknowingly overlooked all of the other aspects of conserving cultural heritage. It was fascinating to see the work behind preserving these "tangible" elements of culture, as Rosie put it. As someone who loves learning about culture, it pains me to know that many historical items are being damaged due to incorrect conservation methods. These tangible parts of culture help us better understand the intangible parts of our own, and others', culture and history. There is a lack of awareness about cultural heritage conservation in Taiwan, and I can see a need for increased PR to help raise awareness about the importance of preserving our history. As our work with Japanese Colonial continues, I hope that our efforts to document and share historic architecture will also shed light on the state of cultural heritage conservation in Taiwan.
Emi here, can I just say: My efforts to brainwash Esther into the cult of conservation is paying off! Back when I was looking for an intern, I knew I wanted a communications major because at the heart of any conservation or preservation work is advocacy, which requires excellent communication and PR skills. As the internship progressed, Esther impressed me with her ability to think through issues and be deliberate about her conclusions. I floated the idea of her becoming a conservation journalist and developing a career in reporting on the global conservation/preservation scene — and trying not to nag or smother her to the point where she doesn't want to hear about it. I'm so curious and looking forward to what's going to happen twenty years from now, especially after what's happening now (compared to twenty years ago).
Thank you, Rosie! This is definitely a team effort and I'm so happy we strangers became friends over the internet machine so we can work together to lure an innocent bystander into joining our cause!
Everyone check out her work on Instagram: @rosiehcook !
(Photo below provided by Cheng Shiu University Conservation Center, 2020)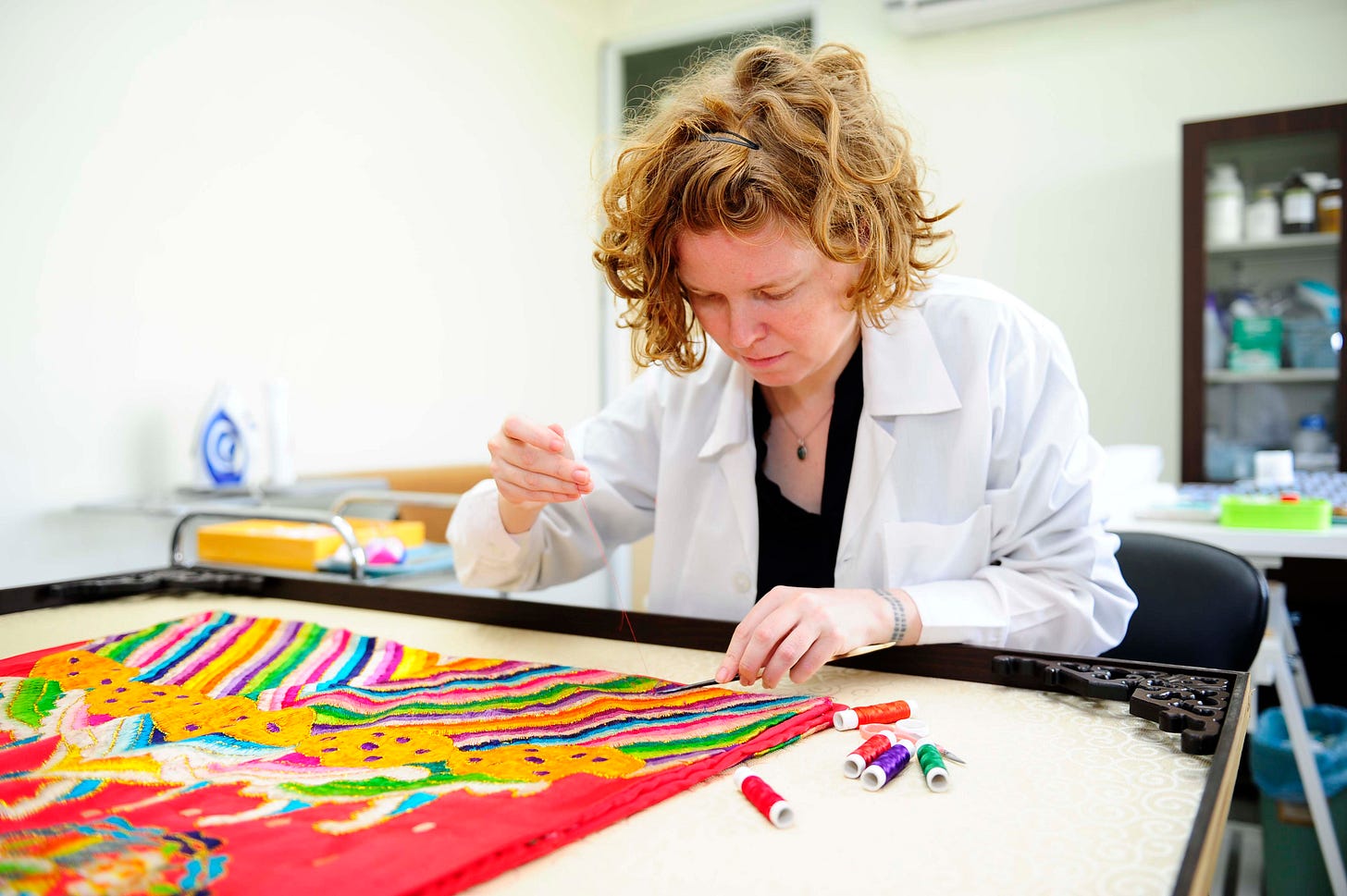 ---
Want to shout from the rooftops and tell everyone you know about the importance of preserving heritage? That's what we do here at Japanese Colonial — help us out and share with your friends!
Consider supporting this work by paying for a subscription! Check out the archives to see what you've missed so far: