Musical Hiatus
The show must go on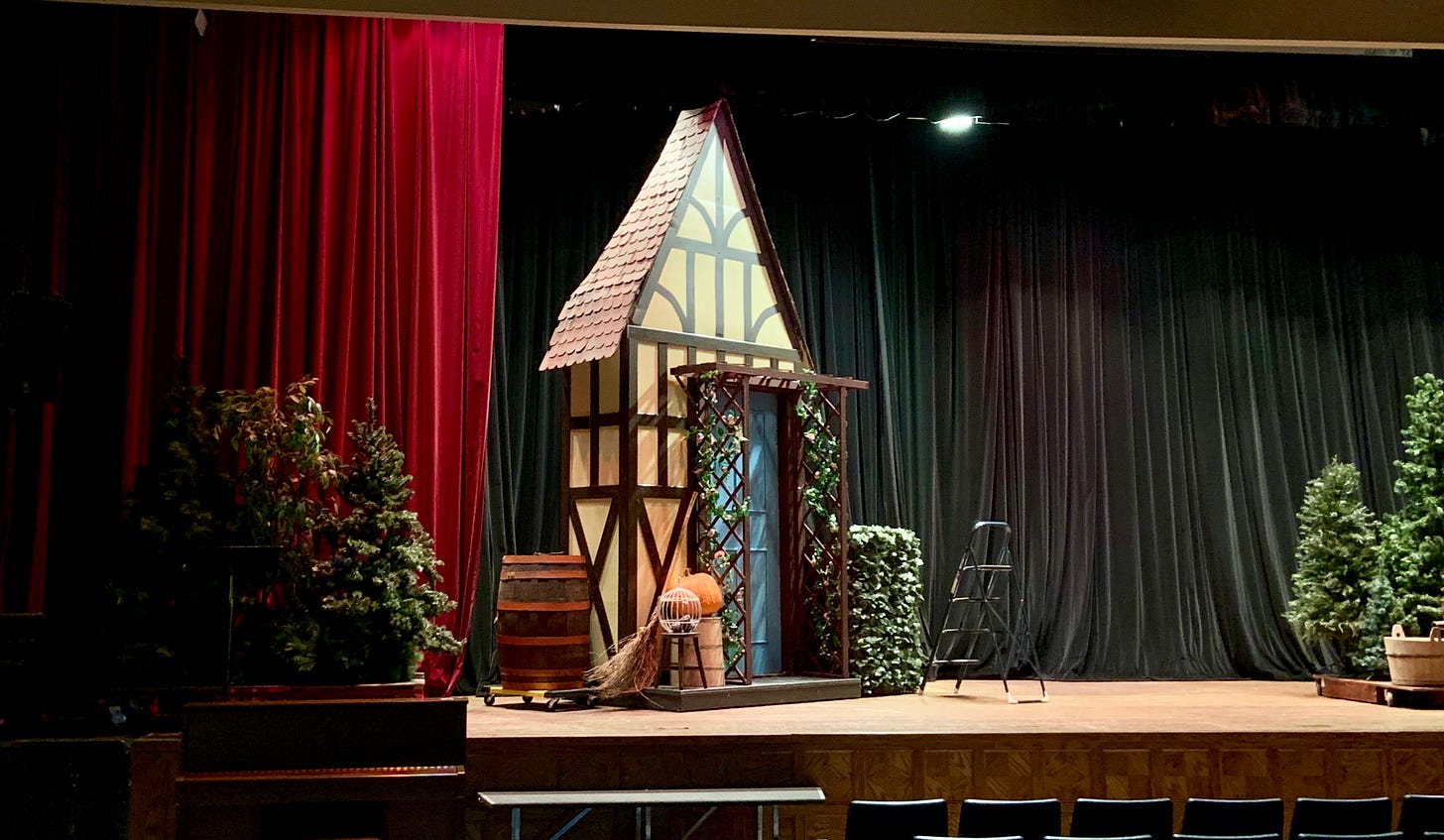 Back in 2010, I moved into a new neighborhood (in Taichung) and was exploring the streets when I happened upon a music studio with a harp in the display window. "Do you teach harp lessons? This isn't just for show?" I asked, and that started a five-year journey that led to me studying classical harp performance very seriously. So seriously that I bought a pedal harp off the internet and had it delivered from Salt Lake City to Taipei. So seriously that I eventually would study with a teacher in Indianapolis in the summers and study/practice on my own in Taiwan throughout the rest of the year. So seriously that I'd fly to Tokyo and/or Indiana (then drive to Kentucky) to take music performance examinations. Then because of teacher conflict (long story), I basically quit in 2015 and the harp became an albatross around my neck.
In Spring 2018, Esther's father (who teaches strings grades 3-12 and directs orchestras) asked me to help out with a middle school orchestra piece that called for a harp. After that, I did nothing with music until February of this year when I found out my old music teacher (who is also the drama teacher) was producing Rodgers and Hammerstein's Cinderella. The newest Broadway iteration of that musical added a lot of harp to its instrumentation, and so I committed to playing in the pit orchestra. Then, because a production like this is all-hands-on-deck, I also started helping with some of the set build and somehow ended up designing part of the set as well.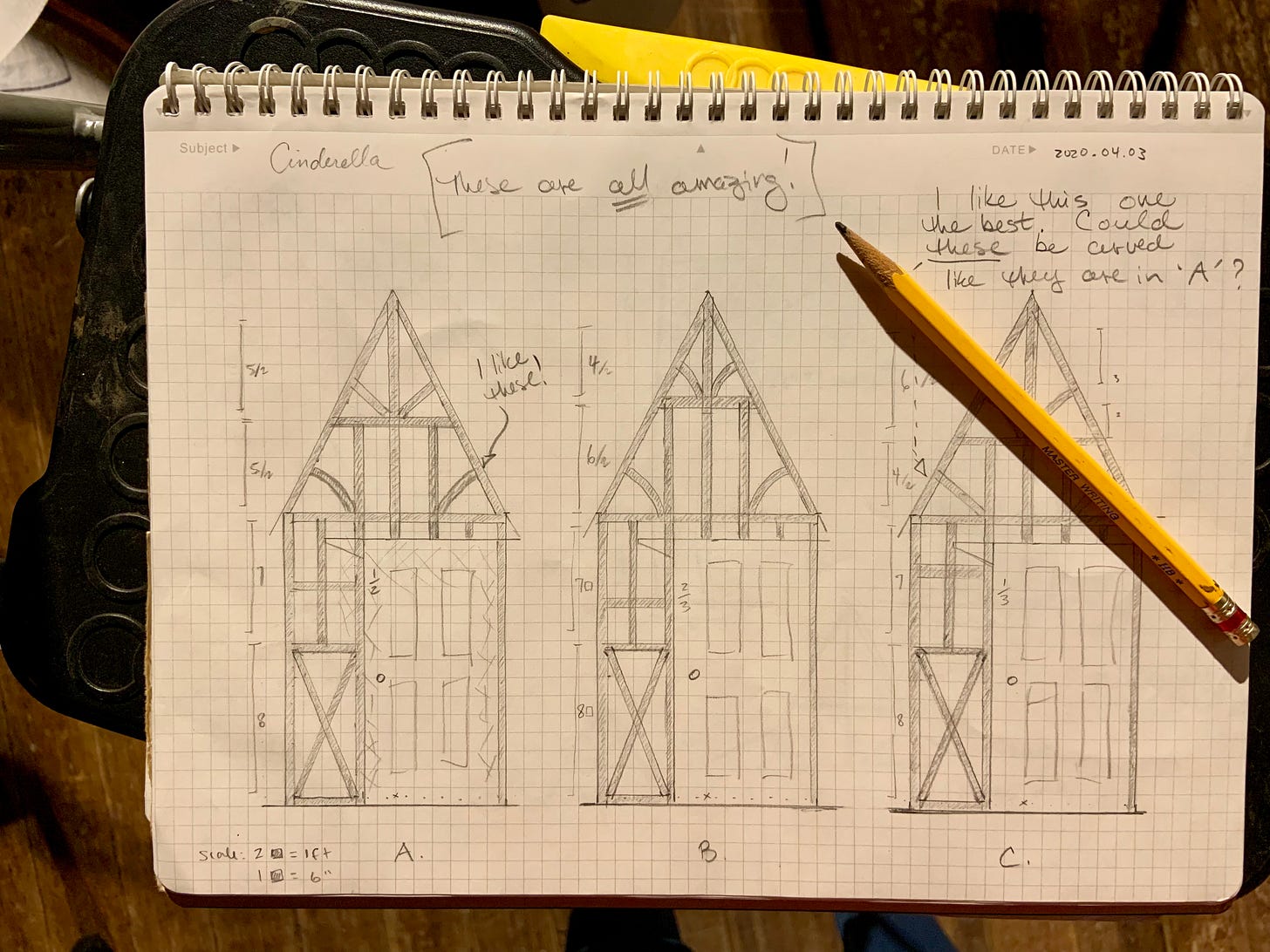 That experience was unexpected and perfect for what I had been doing in preservation design because I may have been the only one who could "see" and execute what the director had in mind for Cinderella's cottage. It started giving me ideas for figuring out how to combine historic preservation and theater set design. Oh and by the way, I've listened to opera pretty much my whole life, and right around this time the Metropolitan Opera started streaming a free opera every day — so it was like a part-time job just to keep up with all those amazing opera recordings. That's when I started getting all kinds of ideas of one day staging operas in historical Japan-Taiwan settings.
Then it all came crashing down because Taiwan experienced its version of a second coronavirus wave in early March, in part due to travelers (both Taiwanese and non-Taiwanese) being infected while in Europe or other parts of Asia and then bringing it into the country. With a lot of complications (and school switching to online learning, which meant musical rehearsals had to be stopped temporarily twice), the originally scheduled-for-late-April performance dates had to be cancelled. The good news (even at the time of cancellation) was that because the school calendar already had room for a drama production in the fall, the musical could just be postponed till then.
And so that's how I knew months ago that I'd be rather unavailable starting mid-August. Performance dates are in mid-September, just five weeks after the fall semester starts, so that's not a lot of time to get ready. And because I play a difficult instrument I knew I needed to "pre-practice". That's why I started practicing again July 1st, just to get my hands in shape. I was also going to help with finishing the set, so basically all of August was going to be unpredictable. That's why Esther's help planning and preparing so much content in July was invaluable to buy me some time.
A lot of people think I'm doing completely separate things when I'm "either" into architecture "or" music, but I see them as being strongly linked to historic preservation — and specifically cultural heritage. As an fierce fan of museums and museum-related work, I love a good story of conservation success when it comes to individual tangible objects. As a classically trained musician, I see sheet music as a portal to the composer's or conductor's minds. And because everything takes place in a place, it's important to me to protect the buildings that house the physical objects or host musical events. The fact that it's possible to recreate historic settings for the theater should have been so obvious to me because I basically watch period drama films and TV shows more for the historical set (and historical costume) design than for the plot or character development. Nobody try to watch a movie or TV show with me because I will press pause for really long times just to find out more about the filming location and production process!
All that to say, a slight pause on the historic architecture stuff as I run away and join the circus for a while…
---
Want to see more photos of my double life as a musician (and now theater set designer)? I post in Instagram stories under my art account: